July 4th, 2007 by Vidas Matelis
SQL Server 2005 Best Practices Analyzer (BPA) was available as CTP already for some time, but just a few days ago Microsoft finally released it. I tested how this tool works with Microsoft SQL Server Analysis Services 2005.
Download is quite small – just about 2MB. Installation was trivial – just a few questions.  After installation when you start BPA, you can configure what do you want to scan and then run this scan right away or schedule it to run at certain time(s). For my test I choose Analysis Services computer and then SSAS database. I started scanning process that was pretty quick – less than 1 min.  So I started to investigate what this tool was checking.
There were 2 types of scans done: service level scan and database level scan.
For SSAS at the service level it scans accounts used to configure SQLBrowser and MSSQLServerOLAPService services. For my test computer Analyzer complained that I used LocalSystemAccount to configure services.
At the SSAS database level scan checks for over 30 rules and reports if database design breaks these rules. I found a list of rules that are tested in the BPA help file:
Organize Attributes into Levels in User Hierarchies
Define Relationships Between Levels in User Hierarchies
Define Unique Key Columns for Attributes in Natural Hierarchies
Hide Attributes Used as Levels in User Hierarchies
Group Attributes Bound to Single Relational Table into a Single Dimension
Use Only One Non-Aggregatable Attribute per Dimension
Use Only Aggregatable Attributes in Dimensions with a Parent-Child Hierarchy
Hide the Key Attribute in a Dimension Containing a Parent-Child Hierarchy
Increase the Organization of Attributes into Levels in User Hierarchies
Remove Attributes Below Granularity for All Measure Groups
Set the Unknown Member Dimension Property to None
Disable Attributes with 1-1 Relationship with Key Attribute
Bind the Key Attribute for a Dimension to a Column with a Numeric Data Type
Design Aggregations for All Measure Groups
Use Appropriately Sized Partitions in All Measure Groups
Eliminate Unused Aggregation Designs
Design Aggregations for Granularity Attribute of Intermediary Dimensions
Avoid Using Too Many Aggregation Designs
Minimize the Use of Similar Aggregation Designs
Place Distinct Count Measures in Separate Measure Groups
Minimize the Use of Very Large Intermediary Measure Groups
Split Single-Dimension Cubes into Multiple-Dimension Cubes
Use the SQL Native Client Provider
Use MOLAP for Dimensions with Unary Operators, Custom Rollups, and Semi-Additive Measures
Avoid Linked Dimensions with Unary Operators, Custom Rollups, Semi-Additive Measures, and Calculation Scripts
Minimize the Use of Unsupported OLE DB Providers
Materialize Referenced Dimension Relationships
Minimize the Use of Parent-Child Hierarchies
Combine Multiple Measure Groups with the Same Dimensionality and Granularity
Organize Attributes into Dimensions
Minimize the Number of Measures Groups in a Single Cube
Use Default Server Property Settings for Most Properties
Set the Maximum Number of Threads Based on the Number of Processors
Only Use Proactive Caching with MOLAP
As I run my tests on Adventure Works databases, there were no warnings or errors reported at the database level by BPA. 
I will be using this tool to test my SSAS 2005 databases for potential warnings.
Some screenshots of Best Practices Analyser are below:
Screenshot 1: Register SQL Server Components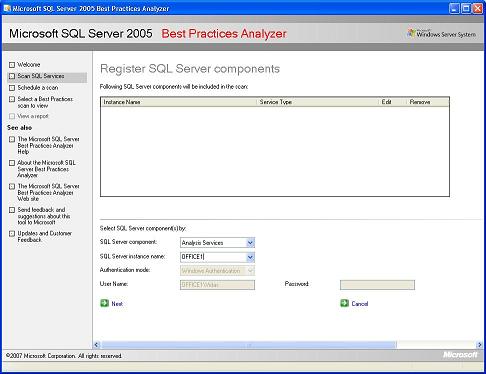 Screenshot 2: Choose database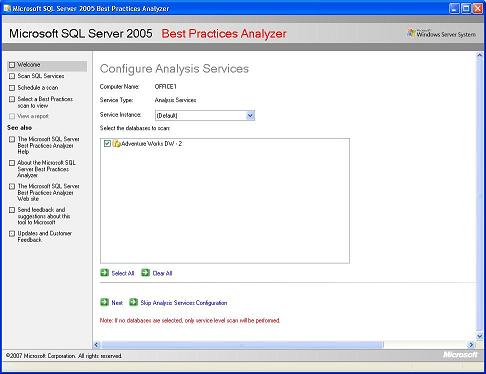 Screenshot 3: Start Scan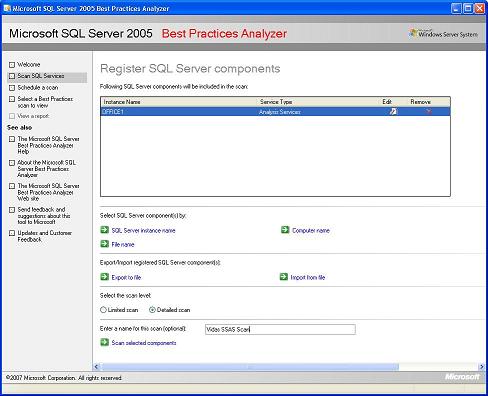 Screenshot 4: Scan Completed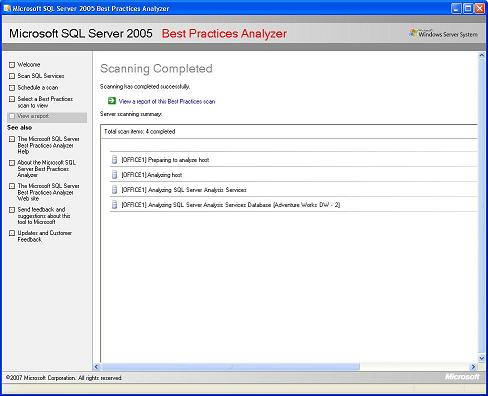 Screenshot 5: Scan Result 1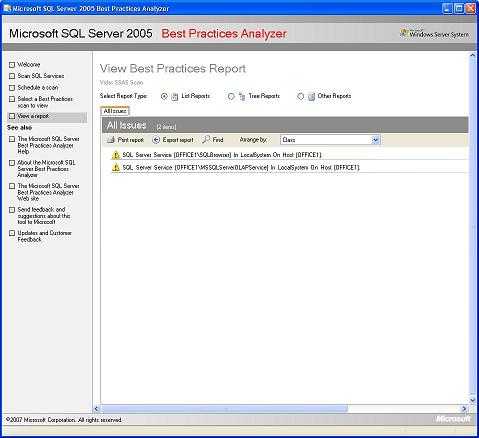 Screenshot 6: Scan Result 2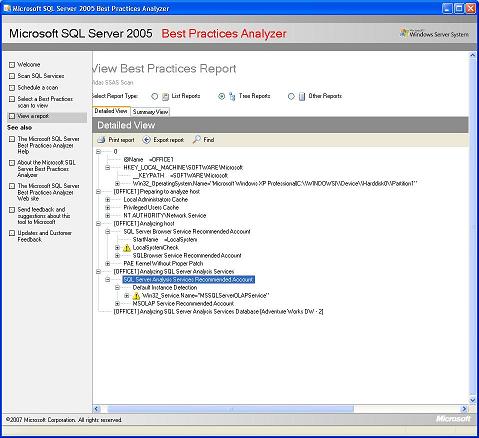 Screenshot 7: Scan Result 3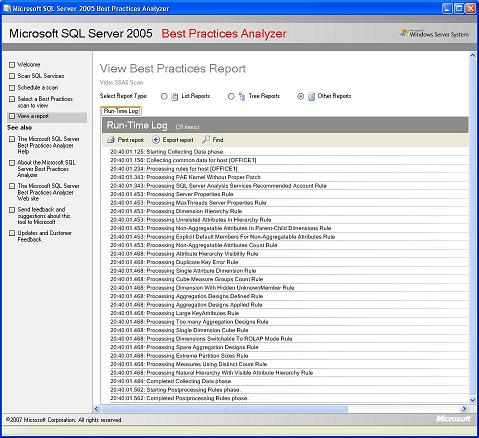 Posted in SSAS | 1 Comment »