May 2nd, 2011 by Vidas Matelis
This blog post is about my experience in the SSAS Maestro program. As I am writing this post (May 1st, 2011), I still don't know if I passed all of the necessary requirements to become a SSAS Maestro, and it will take a few more weeks or even months till the lab, exam and case study results will be available. There is a very good chance that I have not achieved the SSAS Maestro requirements, as this course and the tests were very difficult. However, I still want to share my experience, as I strongly believe that this was by far the best training on SSAS that I have ever participated in.
In the middle of January 2011, I received an invitation to apply for the SSAS Maestro program. I reviewed the training agenda and realized that nowhere else could I get three days of level 500 training on such in-depth SSAS topics. So, I applied and I was very happy that a few days later I received an e-mail with information that I was accepted. I was very surprised to find out that these 3 days of training at Microsoft Redmond camp would cost me …nothing. That's right – Microsoft was providing free SSAS training by top industry leaders and there was no charge for labs or exams and they even provided vouchers for lunch and organized a very nice dinner for all of the students. How great is that? I had to pay only for the flight, the hotel and a few meals. I don't know if Microsoft will be able to provide this training for free in the future though…
Preparation for SSAS Maestro training
As soon as I was accepted to SSAS Maestro training program, I started preparations. From the training description it was clear that best resource for preparation was the SQL CAT team published papers on SSAS topics. I have already posted a list of these papers, but here is this updated list again:
I believe that the first white paper "SQL Server 2008 White Paper: Analysis Services Performance Guide" is the most important paper that one should read and re-read multiple times before attending SSAS Maestro training. The information from this paper was used in almost every training module. All of the other papers were helpful as well, so if you are preparing for SSAS Maestro training – make sure to read them too. Although I read these papers as soon as they were published, I found that it was very helpful to re-read them before training.
During the training I found that another great resource to prepare for this training would have been the book "Microsoft SQL Server 2008 Analysis Services Unleashed" by Irina Gorbach, Edward Melomed and Alexander Berger. This is a great book that explains many of the intricate details on SSAS internals; such information is not available anywhere else.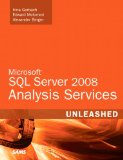 A few days before the classes I received a link to the PowerPoint slides for each training module. These slides contained a lot of information and I went through these slides a few times. During the training I was very happy that I reviewed the slides beforehand. As the training was very intensive, many of the slides were simply skipped, but then during the labs and exams it was expected that you know all of this material.
SSAS Maestro Training
I attended three days of SSAS Maestro training in Microsoft campus at Redmond, WA at the end of February with about 40 other students. The training was very intensive – in 3 days we had to go through 10 modules and most of these modules had between 30 and 55 slides! We also had to do many labs which were very useful, but took much more time than I expected.  To be honest I was quite stressed out while I was doing the labs, as I was hitting many different issues and it seemed that there was never enough time to complete all of the tasks in these labs. But on the last day I finished everything that I wanted and I was able to leave class on time (at 5pm) for my flight back home.
I was very impressed by how knowledgeable most of the attendees were. During the classes there were a lot of great questions and discussions and it was very nice to see such a large group of people passionate about SSAS.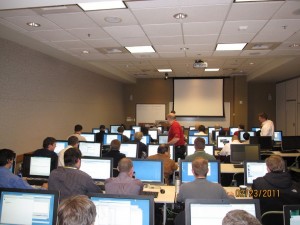 SSAS Maestro Class, Redmond, Feb 2011
I did learn a lot during the SSAS Maestro training and as I said before: this was by far the best training on SSAS that I have ever received. I learned a lot about the internals of SSAS and this information is already helping me to make the right database design and SSAS server configuration choices at work. During the training there was a constant flow of information and tips and tricks on what works and what doesn't with the largest SSAS implementations in the world.
SSAS Maestro Exam
A few days after I came back from the SSAS Maestro training, I received instructions on how to take the exam online. I had a few weeks to submit the exam results, so there was no rush. It took me a few days to complete exam, as I was able to dedicate just an hour or so every night on it. The exam had a mix of theoretical and practical questions and I found that these questions were really measuring my SSAS and MDX knowledge.
SSAS Maestro Case Study
To be honest, the case study was the part that I was most afraid of. I had a month to write a 4000 word case study on one of the suggested topics and I was not sure if I could write that much in such a short period of time. Especially considering that I was able to do my writing only in the evenings and weekends – I had to do my regular work during business hours. I spent the first week doing the exam and setting up my development server for the case study, and the second week I went on a family vacation to Mexico – this trip was planned months before I knew I would have SSAS Maestro training. So I had only two weeks to do my case study.
For my case study I took a large dimension (many members and many attributes) that was already properly designed and I attempted to optimize its processing performance. My initial results were very disappointing as my tests did not show any performance improvement. At one point I even wanted to abandon my test and start working on a different case study. But I kept analyzing all of the details on what was happening during the dimension processing and finally I was able to reduce the dimension processing time from 1 hour to about 40 minutes and then to about 25 minutes. I was very happy with my results and I was even more excited that I was able to use my findings to improve the dimension processing time on my client servers literally the week after my tests. To be honest I don't think I did a very good job expressing myself in my case study. I did not like my writing style, but I had no time to rewrite my document and I just was exhausted after working on it during all of my free time.
I hope that after the SSAS Maestro evaluations these case studies will be published online; I would love to read other students' case studies and to share my findings.
Conclusion
Without a doubt I learned a lot during the SSAS Maestro program. I started to learn from the moment I was accepted to the SSAS Maestro class and I was learning through every step of this program: while preparing for class, during class, while I was doing an exam and while I was writing my case study. So even if I will not became a SSAS Maestro, I am very happy that I went through this as I learned so much. Thank you Microsoft for this great learning opportunity!
Do you think you have what it takes to become SSAS Maestro?
First round of SSAS Maestro training was done just by invitation. But I just found that Microsoft added more SSAS Maestro training courses in June/July and they are accepting applications! Great news is that based on previous class feedback Microsoft increased training time from 3 to 5 days.
Here is information I received from Microsoft (posted here with permission):
Join us for a five-day deep-dive course on Analysis Services 2008 R2 and join the SSAS Maestro Program.  Prepared and presented by top industry experts and the SQL Server Analysis Server team, this intensive course gives top SSAS professionals the education and hands-on experience needed to deliver highly complex and highly scalable OLAP solutions using Analysis Services 2008 R2.   Registration requires screening and approval of qualified attendees.  Click on the links below for more details.

SSAS Maestro Program – Redmond, WA- June 13-17
So if you would like to receive best SSAS training there is – do not hesitate and apply!
Posted in SSAS, SSAS Maestro | 14 Comments »