Kyubit AnalysisPortal – Web based SSAS front-end tool (commercial)
Saturday, 09 June 2012 16:10
Kyubit AnalysisPortal – Web based SSAS front-end tool
AnalysisPortal is web based OLAP analysis front-end software, designed for SSAS Analysis Services OLAP environment. This
OLAP client tool
, developed by
Kyubit
, will boosts analytic capabilities, give visual attraction of OLAP data exploration and assist in every day analysis operations. AnalysisPortal is installed centrally on company intranet (IIS) and serves OLAP analysis data and visualization charts to all authorized users using web browser, HTML and asynchronous javascripts. Kyubit AnalysisPortal OLAP client software offers features and usability usually would require big investments in traditional OLAP software and related infrastructure. Analysis grid with two axes, like one built-in MS SQL Management Studio, this software renders in HTML lightning fast. Dragging dimensions and levels to analysis surface, drilling-down, adding multiple measures, isolate or any other analysis operation is fast and responsive.
Primary features
Quick (2 minute) installation and utilization.
Powerful 2-axes, multi-measure, intuitive OLAP grid analysis
Interactive charts for OLAP analysis and visualization
Easy to adopt, drag-and-drop user experience
Share analysis with colleagues on your intranet
Define drillthrough with columns defined on the fly
Export your analysis to Excel and PDF
Create OLAP report scheduled subscriptions to existing analysis
OLAP data integration to other web apps (like SharePoint).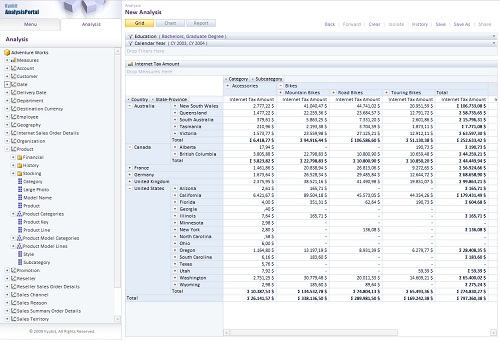 Find out more...
Take a tour on
AnalysisPortal features
available in
Videos
, see some screenshots
gallery of this OLAP web client
, download trial (evaluation) version and feel free to ask us any question you might have about our product -
SSAS Analysis Services client
AnalysisPortal software. We will be glad to receive feedback from your side. Licensing model offers great flexibility and good opportunity to obtain first class OLAP software for your Business Intelligence environment.