Strategy Companion Analyzer
Strategy Companion's Analyzer BI solution provides:
100% zero-footprint web browser client on any major web browser

Internet Explorer, Chrome, Safari, or Firefox
For all users - including Report Creators, End Users, and Admins
... and all functionality – not just a small subset of it
Absolutely no Silverlight or other add-ons or downloads required

Mobile BI - easily created for and delivered to:

iPads, iPhones, BlackBerry/Android phones and tablets, Windows Phone 7, MS Surface

Support for multiple data sources including:

Excel (any version)
Access
Oracle / SQL Server / MySQL RDBMS tables
SQL Server Analysis Services cubes - multidimensional and tabular

Advanced Visualizations and Data Discovery
Unparalleled Ease of Use for non-technical business users
SharePoint Integration (optional)
Available for internal Enterprise BI, Cloud-based Information Providers, and OEM integration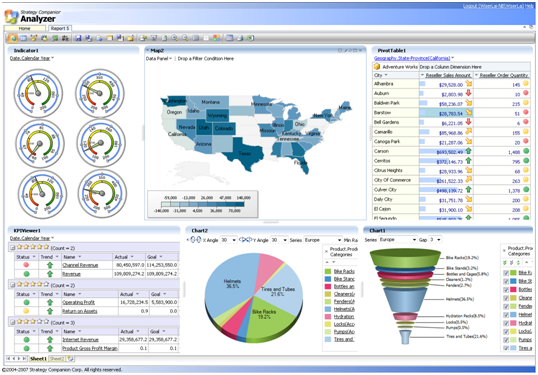 SQL Server magazine had this to say about Analyzer:
"Filling the gaping hole left by Microsoft's absorption of ProClarity, Strategy Companion Analyzer is the best solution to complete the Microsoft BI platform. For analysts, power users, and general report consumers, Analyzer supports the full range of SQL Server Analysis Services features. It has a zero-footprint client interface, making it simple to deploy and manage, with delivery options for SharePoint, Excel, and Internet Explorer. Analyzer offers a powerful and intuitive set of analysis tools and visualizations that let business users make more confident decisions."
- Douglas McDowell, contributing editor, in SQL Server Magazine's announcement of Analyzer winning the Editor's Best Award in the Business Intelligence Reporting tool category
"I have seen slick web-based thin browsers before, but this one looks absolutely amazing."
- Mosha Pasumansky, former Microsoft SQL Server Analysis Services team lead and BI guru
 

Analyzer's unparalleled ease of use, advanced visualizations, and powerful analytics are making "Pervasive BI" a reality today in organizations such as L'Oreal, Nissan, LexisNexis, Coca-Cola, Walmart, and many more.
This is because Analyzer is simply the most advanced Business Intelligence (BI) front-end application supporting SQL Server today. Analyzer provides Reporting, Analytics, and Dashboarding capabilities all in one easy-to-use, integrated solution. All of Analyzer's capabilities (not just a subset), for all users (end users, report designers, and admins), are delivered through a highly intuitive, 100% zero-footprint web browser client – either Internet Explorer, Chrome, Safari, or Firefox.
Using Analyzer, your non-technical business users can finally create their own reports and dashboards – and they will thank you for their newfound abilities to understand what is happening in the business. Users can create new reports in minutes and modify and distribute them as needed. Using and major web browser, users can display multiple reports and dashboards, each with multiple sheets, pivot tables, 2D and 3D charts, embedded web pages, embedded Reporting Services reports, Intelligent Maps, Report Filters, Heat Maps, Report Subscriptions and many other types of components.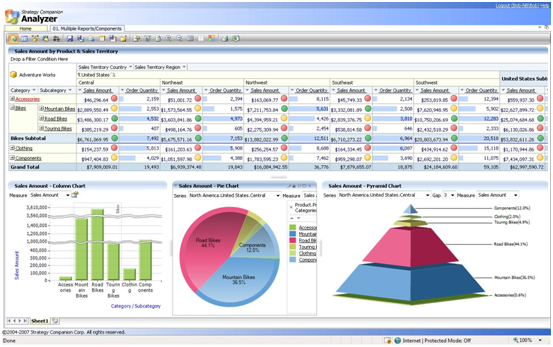 In addition to the very popular web browser deployment option, Analyzer can also be deployed through SharePoint. Yet another deployment option is to embed Analyzer within your existing applications, with or without using our powerful set of web services. You can also deploy Analyzer as a Cloud-based SaaS service for your customers to access, either in single-tenant or multi-tenant mode.
Analyzer is the most technically advanced BI solution providing a complete and seamless integration with Microsoft® SQL Server™ Analysis Services. Analyzer is a 100% .NET application and was built using C# with best-in-class development tools, enabling us to build this purely web-based BI application with superior simplicity, functionality and performance compared to existing BI solutions.
Analyzer empowers your non-technical business users to perform their own analysis as they utilize our advanced charting, drilling, slicing, dicing, ranking, sorting, calculation creation, exception highlighting, and much more, all on the web through a highly intuitive user interface. This frees up your IT professionals to add even more value as they focus on the underlying applications and on building and tuning your Analysis Services cubes (MOLAP, ROLAP, or HOLAP), resulting in even better data and faster performance for your business users.
What is the most important result of using Analyzer? Better and faster decision-making leading to better business performance. Try it yourself and see how easy it is to build an Analyzer report in 5 minutes using our live online environment and QuickStart Guide. Free evaluation downloads, recorded demos, videos, and more are available at the Strategy Companion website.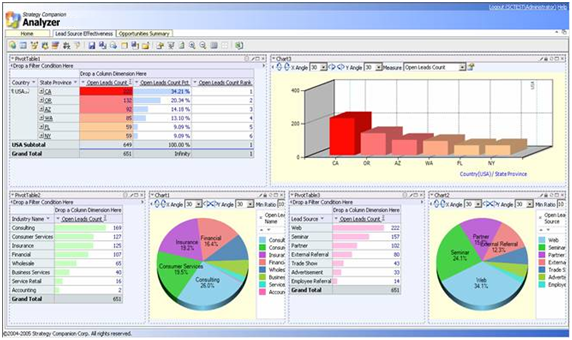 Additional information
Tags: client