SoftPro Manager - free SSAS 2000 Client
Manager is a free OLAP client for SSAS 2000.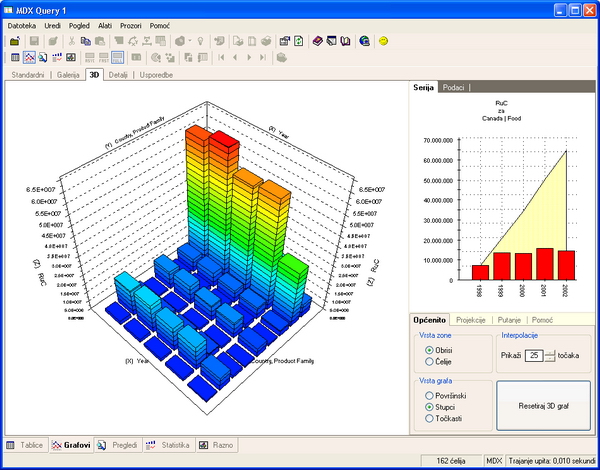 Manager 4 and its 3D graph supporting drilling and other grid functions for OLAP data
(example with language set to Croatian)
Manager is envisioned and made by SoftPro Tetral company, a company with almost 10 years of experience in developing SSAS clients and implementing SSAS projects. Synergy formed by these activities resulted in vast amount of knowledge incorporated in this application that once empowered end users with advanced user interface, MDX query generation, visualization of data and advanced analytical capabilities on grid and graph objects.
Company also pioneered with MDX query parameters in year 2000 with this application. Besides parameters, Manager 4 also incorporated several advanced analysis: ABC analysis, Rank analysis, Trend and Forecasting analysis and similar. Some of Manager's innovative features were real jewels, yet they were much ahead of time.
With the introduction of SSAS 2005, SoftPro Tetral decided to start from scratch with a new product - CubePlayer, on a new platform - .NET. All the best tips and tricks gathered from end users were analyzed, mostly accepted, adopted and incorporated inside it. This process is still going on every single day.
After release of SSAS 2008, Manager became free.
From the technical perspective, Manager is a very heavy Visual Basic 6 application that works with SSAS 2000 only databases and local files. It runs on 32-bit Windows platforms and stores its objects as XML files. Its classic user interface guarantees easy adaption. Manager can change its user interface from Croatian to English and vice versa.
Designed for power users it supports parameters, various display modes, drag&drop interface, export to various formats (Excel included), built-in analyses, exception highlighting, advanced query designer (pivot), advanced MDX editor, drillthrough, actions and much more.
Its true power is its MDX generation engine that allows end users to create various pivots (ad-hoc reports) in its designer without having to learn MDX. So the limited select-all-or-some members from hierarchy, found typically in less powerful clients or add-ins is here extended to a significant set of common functionality that is otherwise required to be built in MDX language. Manager's vision was to provide the end users a very best GUI to build queries, so that they only occasionally have to ask for IT guy's support.
All the tables and graphs (even 3D ones) are live and support right-click funtions for drilling (down, up, through in many variants), predefined measure templates, etc. Search for members by name or property will be much useful when dealing with time dimension or large dimensions in general. Manager also included lots of wizards.
During its early lifetime, Manager received many recognitions and awards. It was member of the prestigious Microsoft Data Warehousing Alliance, pronuonced as a "Packaged Application of the Year" and "Business Intelligence Solution of the Year", and was also a Microsoft Certified Partner Award Finalist. SoftPro Manager once, and still in a way, truly stands out from the croud as a "one of a kind" OLAP client.
Manager doesn't support SSAS 2005/2008 cubes. It's succesor, SoftPro CubePlayer, supports SSAS 2000/2005/2008 cubes.
More info on SoftPro products (Manager or CubePlayer) is available here: http://www.softpro.hr/
Tags: client